Get the best grip
on your game
The Sleeve has everything a hockey player needs! The Sleeve is a unique one-piece over grip made of polymer, finished with a raw surface that ensures maximal grip. The Sleeve is 100% water resistant. It doesn't matter how hard it rains, the Sleeve makes it easy to play in all weather conditions.
More grip than your average hockey grip
Hockey grips made of cork… HUH?
You are probably a little skeptical, we understand that. Hockey grips made of cork? Would that work? Well, it works excellent, really.
EVA Foam with incorporated cork flakes
2.5 mm assures vibration reduction
Up to the entire hockey season
Black, White, Red, Blue, Orange, Yellow, Light blue
Do you suffer from a slippery and cracked grip? Then it is time to replace your old and worn-out grip with a fresh new RIBBON Sportgrip! Simple and easy to apply yourself! Figure out how…
RIBBON Cork grips put around a hockey stick
The cork grip is definitely a must!
''I used the Cork grip last season. I noticed that the grips last longer and keep the same grip all the time, even during the rain the grip remains its quality! The RIBBON Cork grip is definitely a must!''
A perfect feeling of grip and stability
''These grips have a super cool design and give you a perfect feeling of grip and stability!''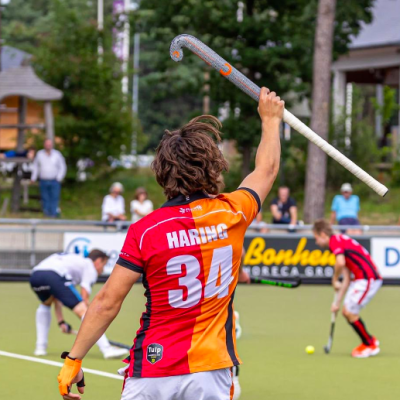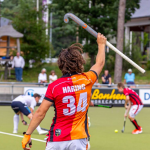 The grip lasts a long time
''It really is a great grip. The grip lasts a long time and is very soft and comfortable. Despite the fact that the grip is white, it remains very nice and clean.''
Revolutionairy Cork hockey grips
Experience the next level of hockey grips
Why should you replace your old hockey stick grip?
Every new hockey stick is equipped with a basic grip. This grip only absorbs some of the shocks but you still feel a lot of vibrations when hitting the ball. This basic hockey grip wears out due to the frequent holding and the alternation of dry and wet weather conditions. Therefore, you should replace your grip in time and only with the best hockey equipment, so you can enjoy your hockey stick more and prevent yourself from painful hands or even worse injuries on your arms and shoulders. Regripping your hockey stick with a thicker and more shock absorbing hockey grip will prevent painful hands and protect your arms. The new grip also ensures your hands don't slip and you won't have to squeeze hard to hold your stick tight. Isn't it every hockey player's dream to benefit from the grip pluses to improve your performance!
The advantages of a new hockey grip
What's worse than a hockey stick that slips out of your hands? Causing a total loss of control over your technique. Every hockeyers' worst nightmare is seeing their hockey stick dangerously flying over the hockey field because of that old slippy grip you did not replace in time. When shopping for a new hockey stick grip you are about to take the control back into your hands. Buying a regular grip will get you into the same trouble.
Therefore you should get your hockey stick regripped only with the best hockey stick grip! You don't want to have a quickly worn-out chamois grip or a regular PU grip that loses its sticky grip faster than the light. You have to take care of your hockey stick shaft with great attention. Nowadays many hockey players like to have an extra grip over their basic grip. But many people don't know you have to replace your hockey grip on time! Leaving your grip too long around your hockey stick can cause mold to form under your grip. 
You won't see the mold but it is definitely something you don't want to hold! Besides the mold, your hockey stick grip is a great place for bacteria to grow. Especially when you use your hockey grip in the rain, the bacteria will slowly decrease the specifications of your grip. It is therefore wise to replace your grip even more if your hockey stick has been in the rain or outside for a long time. You'd better be safe than sorry replacing your hockey grip on time! 
There are a few things to consider when buying hockey equipment. To maximize your hockey comfort just put a ribbon cork grip around your hockey stick. You can easily apply the self-adhesive ribbon hockey grip around your stick and boost the comfort of your hockey stick within seconds. The ribbon cork grip provides practical advantages together with a stylish design.
Pimp your stick
The rugged surface of the cork grips are durable and grippy. The result of the cork flakes is a perfectly weather-resistant grip and may even be in permanent contact with water. To pimp your stick, you can choose between seven different colors. Don't forget to apply tape at the end of the grip so the grip remains fixed around your hockey stick. You are ready to hit the hockey field with maximal comfort!